What is Digital Marketing…!
All online marketing activities are referred to as "internet marketing," often known as "digital marketing." To engage with present and potential customers, businesses use digital channels including search engines, social media, email, and other websites. Also possible are text messages and multimedia messages.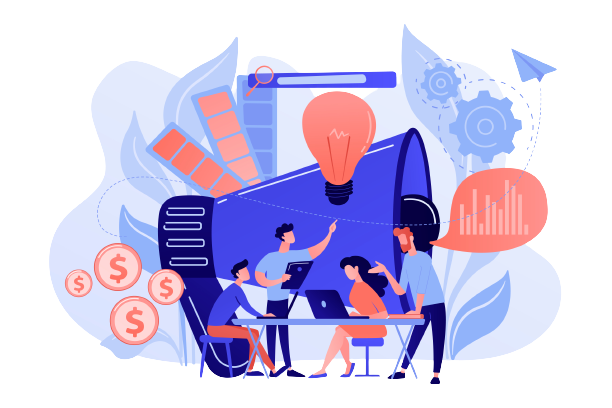 In an era where digital presence is paramount, having a robust digital marketing strategy is crucial for business success. Hosting Baba, a leading digital marketing agency in Bangalore, is your strategic partner in navigating the complexities of the online landscape. We offer a comprehensive suite of digital marketing services designed to elevate your brand and drive results.
Why Choose Our Digital Marketing Services?
Tailored Digital Marketing Strategies
At Hosting Baba, we understand that one size does not fit all. Our digital marketing strategies are tailored to suit your unique business goals, ensuring a customized approach that maximizes your online impact.
Experienced Digital Marketing Team
Our team of seasoned digital marketing experts brings a wealth of experience in creating and implementing successful campaigns. From SEO and SEM to social media and content marketing, we have the expertise to elevate your brand in the digital realm.
Holistic Digital Marketing Tactics
We employ a holistic range of digital marketing tactics to ensure comprehensive coverage across various channels. From search engine optimization (SEO) to pay-per-click (PPC) advertising, email marketing, and social media management, we cover all facets of digital promotion.
Diverse Digital Marketing Channels
 Hosting Baba leverages a diverse set of digital marketing channels to reach your target audience effectively. Whether it's through Google, Facebook, Instagram, or email campaigns, we strategically utilize channels that align with your business objectives.
Digital Marketing Services in Bangalore
As a Bangalore-based digital marketing company, we understand the local market dynamics. Our
services
are crafted to resonate with the unique needs of businesses in Bangalore, ensuring a localized and effective approach.
Proven Track Record
Hosting Baba has a proven track record of delivering measurable results for our clients. Whether you're looking to increase website traffic, boost conversions, or enhance brand awareness, our digital marketing strategies are geared towards achieving your specific objectives.
Contact Hosting Baba
today to explore how our digital marketing services can take your brand to new heights. Whether you need a comprehensive digital marketing strategy, assistance with specific tactics, or ongoing management, we are your trusted partner in the dynamic world of online promotion.
Elevate your brand with
Hosting Baba
– Your Strategic Partner in Digital Marketing!
What can you achieve benefits through digital marketing?
It is easy to start
Global reach will be easier
A targeted approach
Improves the results of offline marketing
Cost effective
Variety of approach in online market
Increase in business engagements
Variety of content types
Speed
Performance analysis and optimization
Is Digital Marketing Conducted in Different Ways?
The answer is a big YES!!! Let's see the different types:
Search Engine Optimization
To improve traffic, major search engines are ranked higher through the technique of SEO.
Social media marketing (SMM)
SMM entails using social media platforms to advertise items or services provided by businesses.
Search Engine Marketing (SEM)
Search engine marketing (SEM) is a type of online marketing that aims to raise awareness of a brand or product by increasing its prominence in search engine results pages. Sometimes, both search engine optimization and paid advertising work together.
Affiliate marketing
It's a type of network marketing where people get paid based on how well they do, usually through revenue sharing or pay-per-sale (PPS) models.
EMAIL marketing
Direct email marketing lets businesses send promotional information about their brand to people who might become customers. Often, this involves using automated newsletters
A Pay-Per-Click (PPC)
Online advertisements of this type only cost the company money if a user chooses to visit the site via the ad.
Our Services
Digital marketing is full of opportunities, but so are your competitors' strategies. 
SEO IN DETAIL
Your site pages can be optimized in several ways. A search engine analyzes elements such as title tags, keywords, image tags, internal links, and links back to your site (also called backlinks). Additionally, search engines consider factors such as site structure and design, visitor behavior, and other external factors related to the offsite aspects of your site. These factors are related to their SERPs. The main purpose of SEO is to drive rankings and visibility, and these factors are considered when analyzing SEO techniques.
A website's ranking and visibility are increased by optimizing its content, conducting keyword research, and earning inbound links. Once a search engine crawls and indexes the page, results generally appear on the SERP, but SEO efforts can take months to fully manifest.
What is SEO strategy?
You can improve your website's search engine rankings by implementing an SEO marketing strategy. An effective SEO strategy includes both on-page and off-page strategies, which use keywords with intent.
A strong SEO strategy consists of three core components: –
The three main elements of optimizing a site are its technical setup, its content, and its links
Technical Setup
To rank your website, you need to do the following:
Your web pages must first be found by search engines.
To discover their keywords and understand their topics, it must scan them first.
The last step is to add them to its index – a database of all the content it has gathered from the internet. Consequently, your website will be displayed for relevant queries by its algorithm.
That seems straightforward, doesn't it? There's no need to worry. It stands to reason that, if you have no problem visiting your site, then Google should have no problem as well, shouldn't it?
The deal does come with a catch, however. When you view a website, it will look different than when you view it through a search engine. Graphics, colors, text, and links are all part of it.
 There is no difference between text and a search engine.
This means that search engines cannot see any elements that cannot be rendered this way. Google may not be able to access your website's content, even if your website appears to be fine to you.
Let's get Social
Connect with us on instagram
View this post on Instagram
View this post on Instagram
View this post on Instagram